Greetings and a very warm welcome to Swami Ramkrishan Paramhans Teachers' Training College affiliated to Binod Bihari Mahto Koyalanchal University, Dhanbad, formerly affiliated to Vinoba Bhave University, Hazaribagh Jharkhand accomplishments expand the frontiers of knowledge and scholarship every day. In this era of Globalization of education, the obvious focus is on the quality of education.
We are passing through a tremendously changing process and our younger generation must be accordingly trained, so that, they can address these challenges effectively, timely and meaningfully.
In the present national scenario, everywhere there is problem of poverty, disorder in family, invasion on culture, mistrust, corruption, violence, terrorism etc and no confidence and fear prevail among people. If there is no peace among people of the nation there cannot be any creativity, and it will lead to lower productivity. To counter this situation the only option left with the nation is education.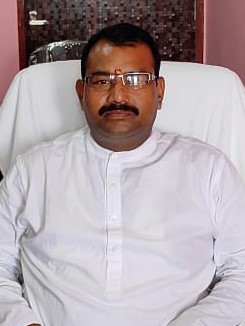 Swami Ramkrishan Paramhans Teachers' Training College under auspicious of Samajik Vikas Samiti the able guidance and leadership of Upanishadic thought 'Tamaso Mam Jyotirgamayoh' is flying high with the mission of "Education for all", from early to modern education, in the small native village of Dugda where the Institute was born and brought up. The mission "Education for all" specially for rural areas culminated into Swami Ramkrishan Paramhans Teachers' Training College. This is a great contribution of Samajik Vikas Samiti towards rural society.
We, at Swami Ramkrishan Paramhans Teachers' Training College provide excellent infrastructure, competent faculty, lush green environment for learning and all other facilities required for modern education. The main aim of the Swami Ramkrishan Paramhans Teachers' Training College is to provide modern education in the field of teacher education to the youth of Dugda and its nearby villages. Let have hope with Buddhistic words of Lord Buddha "Aapo Dipoh Bhav !"